As part of the PoorQuality: Inequality exhibition that is currently on display at the CAH, we are showing a piece of art by Jody Servon entitled "I ______  a dollar." This piece started out as one hundred $1 bills stuck flat against the wall. The bills hung there in a simple, uniform shape, Washington after Washington. The money was there for the taking, but only if you needed it. Jody asked viewers to think about the value of a single dollar, to contemplate their "needs" in relation to their "wants."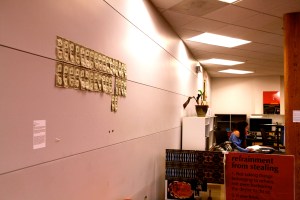 "My hope is for people to actively consider whether or not having this single dollar will make a difference in his or her life, or if they feel the dollar is better left for someone else who needs it more. Perhaps the invitation to take free money will eclipse the question of want vs. need."
A week went by, and one dollar disappeared. Afraid that the piece would dissolve too quickly, one lab member replaced the missing dollar. The art was whole again. More time went by, and another lab member needed change for the vending machine. So she took five singles and left her $5 bill. We treated the piece as if it was our own, moving bills around but preserving its integrity. The wall of money remained, for the most part, intact.
We asked Jody about her expectations for the piece.
"Among the scenarios I considered were one person swiping all of the dollars on the first day, the dollars slowly disappearing one-by-one, someone rearranging the dollars in a different design, or somewhat disappointingly, the piece remaining on the wall untouched."
But the wall did not remain untouched, and one day it encountered a group of guests who came in on a particularly quiet day and left with most of the money. Sure, we were a little annoyed; our precious wall had been ransacked. But that was its purpose, and we laughed it off. At least we had a good story, right?
Some time later, one of the ransackers returned. This time, the CAH was bustling, full of people and lively conversation. He walked in, saw the commotion, and hesitated for just a moment before telling us that he was hungry. We don't have any food here, but there are plenty of restaurants down the street, we told him. Of course, he was not asking where he could buy food. We knew that. But none of us jumped up to offer what was left of the money hanging on the wall. It was art, after all.
Here we were, hosting an exhibit on "inequality," and there was no doubt that this man lay farther down on the distribution of wealth than any of us. And in all of our musings on the exhibit, never did we think that we might find ourselves faced with the perfect case of actual inequality.
Until this moment, we had primarily used and conceived of the wall of bills as a cashier. Yes, we contemplated whether we needed or simply wanted a dollar. But most of us don't need a dollar. In the end, this experience may be the ultimate experiment of our project. And we stumbled into it unintentionally, or rather, he stumbled into our gallery.
A collaboration between Dan Ariely & Aline Grüneisen
The PoorQuality: Inequality Exhibit will be up until the end of August (and we will see whether there are any dollar bills left).